About Us
Choys Asian Cuisine Kitchen is a Chinese takeaway in Belfast. Why don't you try our Chicken or Half Noodles & Half Rice with Sauce?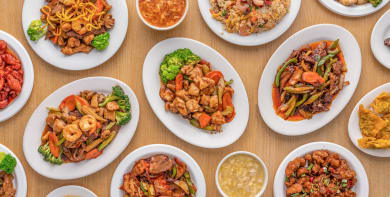 Reviews
93 reviews
Kris
"Was lovely wouldn't say was our favourite but very nice"
01/05/2021
Robert
"Wouldn't go anywhere else in North Belfast"
30/03/2021
NICOLA
"We have ordered from Choys a couple of times recently and we have been really happy each time. Lovely tasty food, great delivery times and friendly staff."
11/03/2021
Glenn
"There was some confusion with the order but was quickly rectified"
09/03/2021
Menu
Fried Crispy Shredded Chicken Dry Chow Mein
£6.50
Singapore Style Dry Chow Mein
£6.50
Special Udon Dry Chow Mein
£7.50
Vegetarian Mock Chicken Dry Chow Mein New
£6.50
Vegetarian Mock Duck Dry Chow Mein New
£6.80
Vegetarian TOFU Dry Chow Mein New
£6.50
Choy's Chicken Chinese Style
£6.20
Choy's Beef Chinese Style
£6.40
Choy's King Prawn Chinese Style
£6.90
Choy's Roast Duck Chinese Style
£7.90
Choy's Vegetables Chinese Style
£5.80
Choy's Special Chinese Style
Chicken, beef, king prawn & roasted duck
£7.00
Choy's Char Siu Chinese Style
Roast pork
£6.00
Special Teriyaki
Chicken, beef, king prawn & roasted duck
£7.00
Char Siu Chop Suey
Roast pork
£6.00
Salt & Chilli Vegetarian Mock Chicken New
£6.20
Salt & Chilli Vegetarian Mock Duck New
£6.50
Salt & Chilli Vegetarian TOFU New
£6.20
King Prawn Thai Red Curry
£6.90
Roast Duck Thai Red Curry
£7.90
Vegetables Thai Red Curry
£5.80
Special Thai Red Curry
Chicken, beef, king prawn & roasted duck
£7.00
Char Siu Thai Red Curry
Roast pork
£6.00
Chicken Green Pepper & Black Bean Sauce
Chicken Mushroom & Black Bean Sauce
Chicken Black Pepper Sauce
Chicken Ginger & Spring Onion
Chicken Crispy in Plum Sauce
Chicken Crispy with Szechuan Sauce
Beef Green Pepper & Black Bean Sauce
Beef Mushroom & Black Bean Sauce
Beef Ginger & Spring Onion
Special Curry - Chicken
Chicken, beef, king prawn & roasted duck
£7.00
Char Siu Curry - Roast Pork
Roast pork
£6.40
Special Curry - King Prawn
£7.00
Special Curry - Roast Duck
£7.00
Vegetarian Mock Duck Curry (New)
£6.50
Vegetarian Mock Chicken Curry (New)
£6.20
Duck with Green Pepper & Black Bean Sauce
£7.90
Duck with Mushroom & Black Bean Sauce
£7.90
Roast Duck So Chow Style
Served with chicken, beef & king prawn in plum sauce
£7.90
Duck with Black Pepper Sauce
£7.90
Chicken with Green Pepper & Black Bean Sauce
£6.00
Chicken with Mushroom & Black Bean Sauce
£6.20
Chicken in Black Pepper Sauce
£6.20
Chicken with Ginger & Spring Onion
£6.00
Crispy Chicken in Plum Sauce
£6.20
Crispy Chicken with Szechuan Sauce
£6.20
Beef with Green Pepper & Black Bean Sauce
£6.40
Beef with Mushroom & Black Bean Sauce
£6.40
Beef in Black Pepper Sauce
£6.40
Beef with Ginger & Spring Onion
£6.40
Stir Fried Mixed Vegetables
£4.00
Stir Fried Mushrooms in Garlic Sauce
£4.00
Irish Mushroom in Garlic Sauce
£4.00
Fried Udon
Japanese white thick noodles
£3.80
Sauce with Chips Sweet & Sour
£3.60
Half Chips & Half Fried Rice with Sauce Curry
£4.00
Half Chips & Half Fried Rice with Sauce Gravy
£4.00
Fried Rice with Sauce Curry
£3.50
Fried Rice with Sauce Gravy
£3.50
Half Chips & Half Noodles with Sauce Curry
£3.90
Half Chips & Half Noodles with Sauce Gravy
£3.90
Half Noodles & Half Rice with Sauce Curry
£3.90
Half Noodles & Half Rice with Sauce Gravy
£3.90
Special Chop Suey
Chicken, beef, king prawn & roasted duck
£7.00
Char Siu Chop Suey
Roast pork
£6.00
King Prawn with Green Pepper & Black Bean Sauce
£6.90
King Prawn with Mushroom & Black Bean Sauce
£6.90
King Prawn in Black Pepper Sauce
£6.90
King Prawn with Ginger & Spring Onion
£6.90
King Prawn with Cashew Nuts
£7.20
King Prawn in Satay Sauce
£6.60
Roast Duck in Satay Sauce
£7.60
Vegetables in Satay Sauce
£5.50
Special in Satay Sauce
Chicken, beef, king prawn & roasted duck
£6.60
Char Siu in Satay Sauce
Roast pork
£6.00
Roast Spring Chicken Supper
£6.20
Vegetarian Mock Chicken (New)
£6.20
Vegetarian Mock Duck (New)
£6.20
Chicken Thai Tom Yum Style
£6.00
King Prawn Thai Tom Yum Style
£6.60
Roast Duck Thai Tom Yum Style
£7.60
Vegetables Thai Tom Yum Style
£5.50
Special Thai Tom Yum Style
Chicken, beef, king prawn & roasted duck
£6.60
Char Siu Thai Tom Yum Style
Roast pork
£6.00
Chicken in Garlic Chilli Sauce
£6.20
Beef in Garlic Chilli Sauce
£6.40
King Prawn in Garlic Chilli Sauce
£6.90
Roast Duck in Garlic Chilli Sauce
£7.90
Vegetables in Garlic Chilli Sauce
£5.80
Special in Garlic Chilli Sauce
Chicken, beef, king prawn & roasted duck
£7.00
Char Siu in Garlic Chilli Sauce
Roast pork
£6.00
Chicken in Honey Chilli Sauce
£6.20
Beef in Honey Chilli Sauce
£6.40
King Prawn in Honey Chilli Sauce
£6.90
Roast Duck in Honey Chilli Sauce
£7.90
Vegetarian Mock Chicken Chilli SauceNew
£6.20
Vegetarian Mock Duck Chilli Sauce New
£6.50
Vegetarian TOFU Chilli Sauce New
£6.20
Kids Chicken in Batter (4) on Chips with Sauce Curry
£5.00
Kids Chicken in Batter (4) on Chips with Sauce Gravy
£5.00
Kids Sausages (2) on Chips with Sauce Curry
£4.00
Kids Sausages (2) on Chips with Sauce Gravy
£4.00
Kids Beef Fried Rice with Garlic Mushroom
£5.20
Choy's Meal Deal A
Salted chilli chicken on chips served with a can of drink
£6.50
Choy's Meal Deal B
Crispy chicken wings (6) on chips served with a can of drink
£6.50
Choy's Meal Deal C
Ribs with BBQ sauce on chips served with a can of drink
£6.50
Choy's Meal Deal D
2 sausages, chicken wings & chicken balls on chips with curry OR gravy served with a can of drink
£6.50
Choy's Meal Deal E
Chicken goujons on chips served with a can of drink
£6.50
Choy's Meal Deal 1 for One
Duck rolls (2) OR chicken wings (3), chicken OR beef curry served with rice OR chips & can of drink
£8.50
Choy's Meal Deal 2 for One
Duck rolls (2) Or chicken wings (3), chicken OR beef chow mein (dry) served with a can of drink
£8.00
Choy's Meal Deal 3 for One
Duck rolls (2) OR chicken wings (3), chicken balls & chips with choice of sauce & can of drink
£8.00
Small Super Value Box
2 Chicken balls, 2 chicken wings, 2 BBQ ribs, 4 mini spring rolls, 2 sausages, salted chilli chicken, salted chilli chips & tub of curry OR gravy with FREE can of Coke
£9.80
Large Super Value Box
4 Chicken balls, 4 chicken wings, 4 BBQ ribs, 8 mini spring rolls, 4 sausages, salted chilli chicken, salted chilli chips, tub of curry OR gravy with FREE 2 cans of Coke
£18.80
Special Chow Mein with Green Pepper & Black Bean
Sauce
£7.50
Special Chow Mein in Satay Sauce
£7.50
Special Chow Men in Oyster Sauce
£7.50
Special Chow Mein in Garlic Chilli Sauce
£7.50
Singapore Style Fried Rice
£6.50
Special Fried Rice BBQ Sauce
£7.50
Vegetarian Mock Chicken Fried Rice New
£6.50
Vegetarian Mock Duck Fried Rice New
£6.80
King Prawn in Oyster Sauce
£6.60
Roast Duck in Oyster Sauce
£7.60
Vegetables in Oyster Sauce
£5.50
Special in Oyster Sauce
Chicken, beef, king prawn & roasted duck
£6.60
Char Siu in Oyster Sauce
Roast pork
£6.00
Sweet & Sour Chicken Balls
£6.40
Sweet & Sour Mock Chicken New
£6.20
Sweet & Sour Mock Duck New
£6.50
Sweet & Sour Vegetarian TOFU New
£6.20
Crispy Aromatic Duck Quarter
Served with celery, cucumber, hoisin sauce & pancake
£9.50
Crispy Aromatic Duck Half
Served with celery, cucumber, hoisin sauce & pancake
£18.00
Choy's Deluxe Platter
Prawn toast, vegetables spring roll, rib & salted chilli chicken
Per person
£5.00
Vegetable Spring Rolls
Served with sweet chilli sauce
£3.80
Salted Chilli King Prawns
£5.20
Choy's Ribs Honey Plum Sauce
£5.00
Smoked Chicken
Lightly battered shredded chicken fried with garlic & onion
£4.80
Homemade Crispy Duck Rolls
Finely chopped shredded duck served with hoisin sauce
£4.20
Pan Pan Chicken Starter
Lightly battered chicken in Thai sweet chilli sauce
£4.80
New Zealand Mussels in Black Bean Sauce
£5.20
Deep Fried Sliced Beef in Black Pepper Sesame
Sauce
£4.80
Crispy Chicken Wings Salted Chilli
£4.80
Crispy Chicken Wings Peking Sauce
£4.80
Thai Style Tom Yum Seafood Soup
£3.50
Crispy Chicken Wings Honey Sauce
£4.80
Salted Chilli Vegetarian Mock Chicken (New)
£5.00
Crispy Aromatic Vegetarian Mock Duck (New)
£9.00
Half & Half Madness
Any chicken OR beef dishes with rice OR chips
All served in 1 carton
£6.00
Contact Us
Find Us
241 Cliftonville Road, Belfast, BT146JU
We deliver to
BT13, BT14, BT15