About Us
Choys Asian Cuisine Kitchen is a Chinese takeaway in Belfast. Why don't you try our Chicken or Half Noodles & Half Rice with Sauce?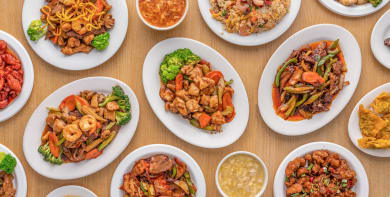 Reviews
90 reviews
Barry
"It was nice but curry was very watery which I don't like.but not Gona give bad review.staff were very nice"
17/12/2020
Shaa
"Delicious"
25/11/2020
Rodney
"Lovely food and fast friendly delivery"
06/11/2020
Kevin
"Hey guys love the food, service and times are great but one simple request. Could you keep some actual fixed hours on just eat. It's actual pot luck trying to find you online. Thanks"
18/10/2020
Menu
Fried Crispy Shredded Chicken Dry Chow Mein
£6.50
Singapore Style Dry Chow Mein
£6.50
Special Udon Dry Chow Mein
£7.50
Vegetarian Mock Chicken Dry Chow Mein New
£6.50
Vegetarian Mock Duck Dry Chow Mein New
£6.80
Vegetarian TOFU Dry Chow Mein New
£6.50
Choy's Chicken Chinese Style
£6.20
Choy's Beef Chinese Style
£6.40
Choy's King Prawn Chinese Style
£6.90
Choy's Roast Duck Chinese Style
£7.90
Choy's Vegetables Chinese Style
£5.80
Choy's Special Chinese Style
Chicken, beef, king prawn & roasted duck
£7.00
Choy's Char Siu Chinese Style
Roast pork
£6.00
Special Teriyaki
Chicken, beef, king prawn & roasted duck
£7.00
Char Siu Chop Suey
Roast pork
£6.00
Salt & Chilli Vegetarian Mock Chicken New
£6.20
Salt & Chilli Vegetarian Mock Duck New
£6.50
Salt & Chilli Vegetarian TOFU New
£6.20
King Prawn Thai Red Curry
£6.90
Roast Duck Thai Red Curry
£7.90
Vegetables Thai Red Curry
£5.80
Special Thai Red Curry
Chicken, beef, king prawn & roasted duck
£7.00
Char Siu Thai Red Curry
Roast pork
£6.00
Chicken Green Pepper & Black Bean Sauce
Chicken Mushroom & Black Bean Sauce
Chicken Black Pepper Sauce
Chicken Ginger & Spring Onion
Chicken Crispy in Plum Sauce
Chicken Crispy with Szechuan Sauce
Beef Green Pepper & Black Bean Sauce
Beef Mushroom & Black Bean Sauce
Beef Ginger & Spring Onion
Special Curry - Chicken
Chicken, beef, king prawn & roasted duck
£7.00
Char Siu Curry - Roast Pork
Roast pork
£6.40
Special Curry - King Prawn
£7.00
Special Curry - Roast Duck
£7.00
Vegetarian Mock Duck Curry (New)
£6.50
Vegetarian Mock Chicken Curry (New)
£6.20
Duck with Green Pepper & Black Bean Sauce
£7.90
Duck with Mushroom & Black Bean Sauce
£7.90
Roast Duck So Chow Style
Served with chicken, beef & king prawn in plum sauce
£7.90
Duck with Black Pepper Sauce
£7.90
Chicken with Green Pepper & Black Bean Sauce
£6.00
Chicken with Mushroom & Black Bean Sauce
£6.20
Chicken in Black Pepper Sauce
£6.20
Chicken with Ginger & Spring Onion
£6.00
Crispy Chicken in Plum Sauce
£6.20
Crispy Chicken with Szechuan Sauce
£6.20
Beef with Green Pepper & Black Bean Sauce
£6.40
Beef with Mushroom & Black Bean Sauce
£6.40
Beef in Black Pepper Sauce
£6.40
Beef with Ginger & Spring Onion
£6.40
Stir Fried Mixed Vegetables
£4.00
Stir Fried Mushrooms in Garlic Sauce
£4.00
Irish Mushroom in Garlic Sauce
£4.00
Fried Udon
Japanese white thick noodles
£3.80
Sauce with Chips Sweet & Sour
£3.60
Half Chips & Half Fried Rice with Sauce Curry
£4.00
Half Chips & Half Fried Rice with Sauce Gravy
£4.00
Fried Rice with Sauce Curry
£3.50
Fried Rice with Sauce Gravy
£3.50
Half Chips & Half Noodles with Sauce Curry
£3.90
Half Chips & Half Noodles with Sauce Gravy
£3.90
Half Noodles & Half Rice with Sauce Curry
£3.90
Half Noodles & Half Rice with Sauce Gravy
£3.90
Special Chop Suey
Chicken, beef, king prawn & roasted duck
£7.00
Char Siu Chop Suey
Roast pork
£6.00
King Prawn with Green Pepper & Black Bean Sauce
£6.90
King Prawn with Mushroom & Black Bean Sauce
£6.90
King Prawn in Black Pepper Sauce
£6.90
King Prawn with Ginger & Spring Onion
£6.90
King Prawn with Cashew Nuts
£7.20
King Prawn in Satay Sauce
£6.60
Roast Duck in Satay Sauce
£7.60
Vegetables in Satay Sauce
£5.50
Special in Satay Sauce
Chicken, beef, king prawn & roasted duck
£6.60
Char Siu in Satay Sauce
Roast pork
£6.00
Roast Spring Chicken Supper
£6.20
Vegetarian Mock Chicken (New)
£6.20
Vegetarian Mock Duck (New)
£6.20
Chicken Thai Tom Yum Style
£6.00
King Prawn Thai Tom Yum Style
£6.60
Roast Duck Thai Tom Yum Style
£7.60
Vegetables Thai Tom Yum Style
£5.50
Special Thai Tom Yum Style
Chicken, beef, king prawn & roasted duck
£6.60
Char Siu Thai Tom Yum Style
Roast pork
£6.00
Chicken in Garlic Chilli Sauce
£6.20
Beef in Garlic Chilli Sauce
£6.40
King Prawn in Garlic Chilli Sauce
£6.90
Roast Duck in Garlic Chilli Sauce
£7.90
Vegetables in Garlic Chilli Sauce
£5.80
Special in Garlic Chilli Sauce
Chicken, beef, king prawn & roasted duck
£7.00
Char Siu in Garlic Chilli Sauce
Roast pork
£6.00
Chicken in Honey Chilli Sauce
£6.20
Beef in Honey Chilli Sauce
£6.40
King Prawn in Honey Chilli Sauce
£6.90
Roast Duck in Honey Chilli Sauce
£7.90
Vegetarian Mock Chicken Chilli SauceNew
£6.20
Vegetarian Mock Duck Chilli Sauce New
£6.50
Vegetarian TOFU Chilli Sauce New
£6.20
Kids Chicken in Batter (4) on Chips with Sauce Curry
£5.00
Kids Chicken in Batter (4) on Chips with Sauce Gravy
£5.00
Kids Sausages (2) on Chips with Sauce Curry
£4.00
Kids Sausages (2) on Chips with Sauce Gravy
£4.00
Kids Beef Fried Rice with Garlic Mushroom
£5.20
Choy's Meal Deal A
Salted chilli chicken on chips served with a can of drink
£6.50
Choy's Meal Deal B
Crispy chicken wings (6) on chips served with a can of drink
£6.50
Choy's Meal Deal C
Ribs with BBQ sauce on chips served with a can of drink
£6.50
Choy's Meal Deal D
2 sausages, chicken wings & chicken balls on chips with curry OR gravy served with a can of drink
£6.50
Choy's Meal Deal E
Chicken goujons on chips served with a can of drink
£6.50
Choy's Meal Deal 1 for One
Duck rolls (2) OR chicken wings (3), chicken OR beef curry served with rice OR chips & can of drink
£8.50
Choy's Meal Deal 2 for One
Duck rolls (2) Or chicken wings (3), chicken OR beef chow mein (dry) served with a can of drink
£8.00
Choy's Meal Deal 3 for One
Duck rolls (2) OR chicken wings (3), chicken balls & chips with choice of sauce & can of drink
£8.00
Small Super Value Box
2 Chicken balls, 2 chicken wings, 2 BBQ ribs, 4 mini spring rolls, 2 sausages, salted chilli chicken, salted chilli chips & tub of curry OR gravy with FREE can of Coke
£9.80
Large Super Value Box
4 Chicken balls, 4 chicken wings, 4 BBQ ribs, 8 mini spring rolls, 4 sausages, salted chilli chicken, salted chilli chips, tub of curry OR gravy with FREE 2 cans of Coke
£18.80
Special Chow Mein with Green Pepper & Black Bean
Sauce
£7.50
Special Chow Mein in Satay Sauce
£7.50
Special Chow Men in Oyster Sauce
£7.50
Special Chow Mein in Garlic Chilli Sauce
£7.50
Singapore Style Fried Rice
£6.50
Special Fried Rice BBQ Sauce
£7.50
Vegetarian Mock Chicken Fried Rice New
£6.50
Vegetarian Mock Duck Fried Rice New
£6.80
King Prawn in Oyster Sauce
£6.60
Roast Duck in Oyster Sauce
£7.60
Vegetables in Oyster Sauce
£5.50
Special in Oyster Sauce
Chicken, beef, king prawn & roasted duck
£6.60
Char Siu in Oyster Sauce
Roast pork
£6.00
Sweet & Sour Chicken Balls
£6.40
Sweet & Sour Mock Chicken New
£6.20
Sweet & Sour Mock Duck New
£6.50
Sweet & Sour Vegetarian TOFU New
£6.20
Crispy Aromatic Duck Quarter
Served with celery, cucumber, hoisin sauce & pancake
£9.50
Crispy Aromatic Duck Half
Served with celery, cucumber, hoisin sauce & pancake
£18.00
Choy's Deluxe Platter
Prawn toast, vegetables spring roll, rib & salted chilli chicken
Per person
£5.00
Vegetable Spring Rolls
Served with sweet chilli sauce
£3.80
Salted Chilli King Prawns
£5.20
Choy's Ribs Honey Plum Sauce
£5.00
Smoked Chicken
Lightly battered shredded chicken fried with garlic & onion
£4.80
Homemade Crispy Duck Rolls
Finely chopped shredded duck served with hoisin sauce
£4.20
Pan Pan Chicken Starter
Lightly battered chicken in Thai sweet chilli sauce
£4.80
New Zealand Mussels in Black Bean Sauce
£5.20
Deep Fried Sliced Beef in Black Pepper Sesame
Sauce
£4.80
Crispy Chicken Wings Salted Chilli
£4.80
Crispy Chicken Wings Peking Sauce
£4.80
Thai Style Tom Yum Seafood Soup
£3.50
Crispy Chicken Wings Honey Sauce
£4.80
Salted Chilli Vegetarian Mock Chicken (New)
£5.00
Crispy Aromatic Vegetarian Mock Duck (New)
£9.00
Half & Half Madness
Any chicken OR beef dishes with rice OR chips
All served in 1 carton
£6.00
Contact Us
Find Us
241 Cliftonville Road, Belfast, BT146JU
We deliver to
BT13, BT14, BT15